Television, Books, Toys and Annuals
I've managed to get together several of my books for you to see here and I can tell you some secrets about me if you haven't read my books.
Firstly, my name comes from some letters painted on the huge packing case that I had made my home.  The letters actually spell out – 
                                                THIS SIDE UP
                                   USE NO HOOKS
Well, I had covered the top of my home with branches and leaves which covered up some of the letters. When Sally and Andrew found me, they could only see the middle letters, ISSI NOHO, and they thought that was my name! I was really happy to have a name of my own.
Secondly, I have a pouch hanging from a cord round my neck. This pouch is full of magic cards which have numbers in the squares, see . . .
All the numbers add up to the same total whether up and down,  side to side or   corner to corner. You will see there is a number missing! If I put the correct number in I can do magic which works perfectly but if I get the number wrong my magic goes all wobbly wrong. These cards can get me into all sorts of trouble.
Keith wrote lots of books about my adventures and dozens of TV programmes which he narrated for THAMES TELEVISION. I became quite a star even though I say so myself!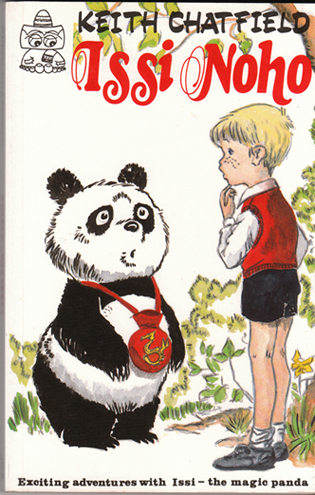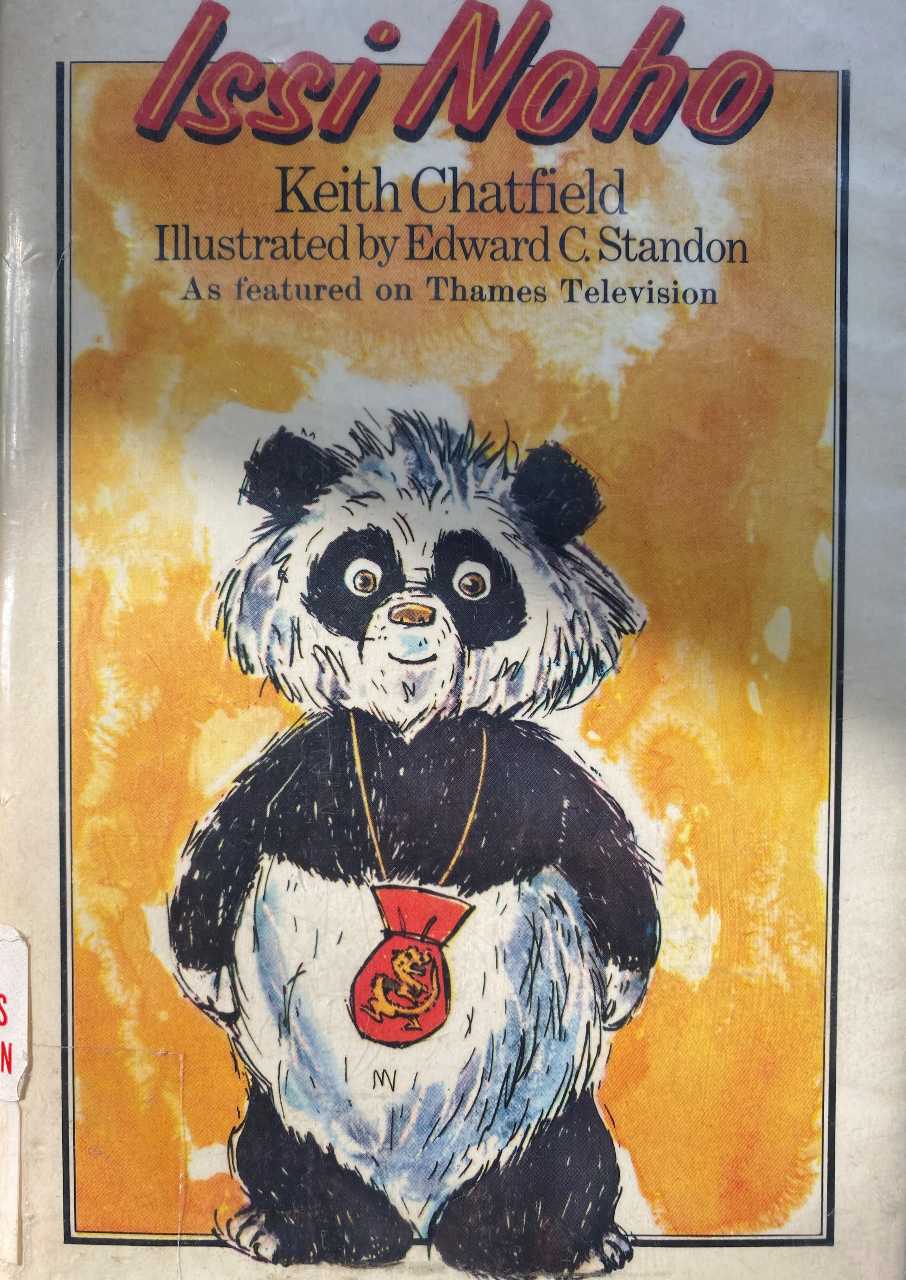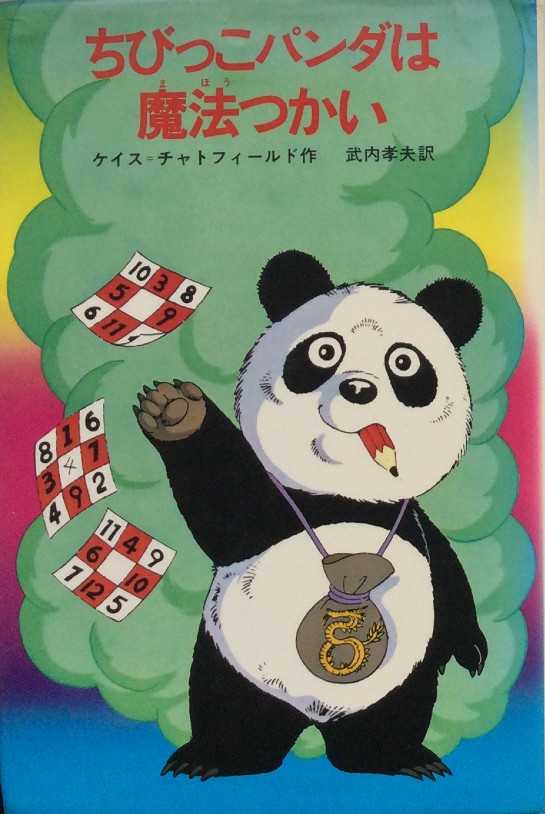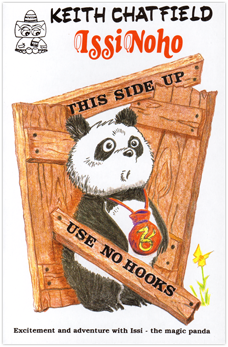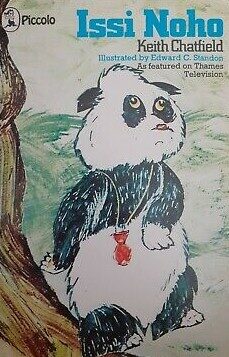 Issi Noho is a panda. He can work a little bit of magic with the magic cards he inherited from his ancestors in China, but because he isn't very good at arithmetic the magic sometimes goes wrong. And that's how Issi comes to be in a packing case in the middle of Coppins Wood.
Luckily for Issi, he is found by the Martin children, Andrew and Sally. After a rather bad start (more magic) he settles down happily with the Martin family in Juniper Avenue. They all get very fond of him, and Issi is very gratefuk – so grateful that when the Martins go on holiday he decides to clean their house for them – by magic. The chain of extraordinary events he sets in motion is as much a surprise to Issi as the inhabitants of Juniper Avenue.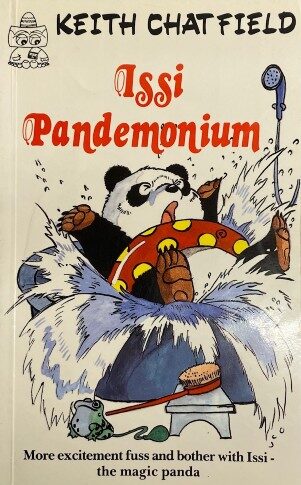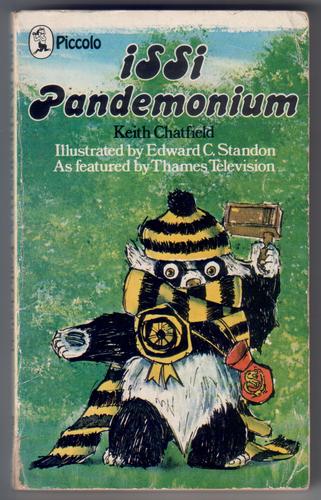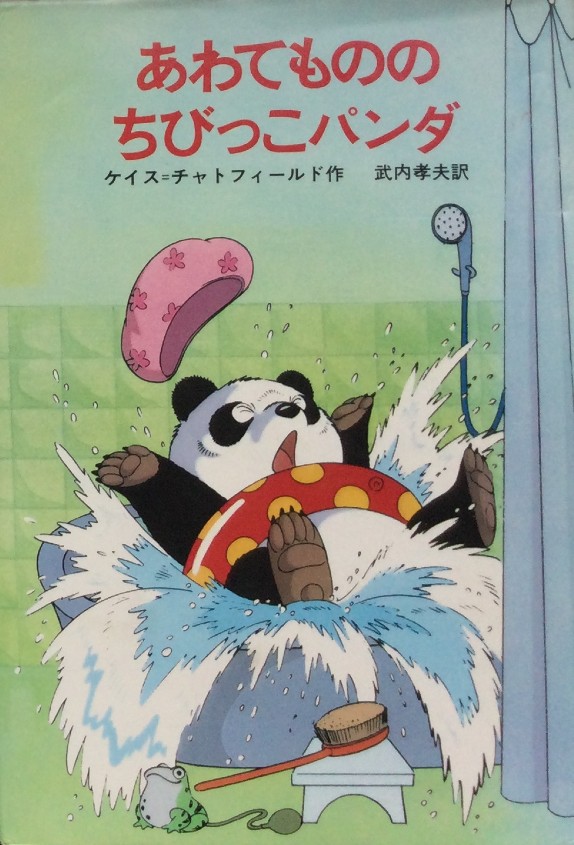 Issi is a very special panda. His magic cards give him exciting powers of mischief although his intentions are always good.  He didn't mean to make himself invisible. He didn't mean to empty the local pond or get trapped inside a pillar box or flood the Martin's garden.  But amazing adventures just happen when Issi's around.  The problem is no-one knows what's going to happen next – not even Issi.
JUST A THOUGHT - You can have a lot of fun playing with words! Start mixing the end of one word with the beginning of another. Sooner or later you will find a new name for a character that you can tell stories about. Try it!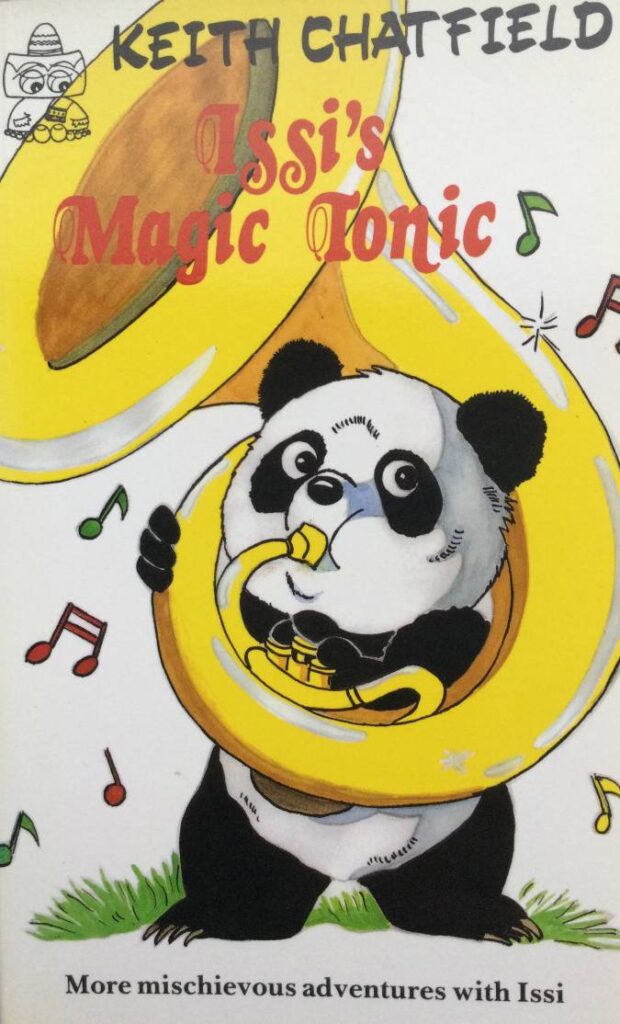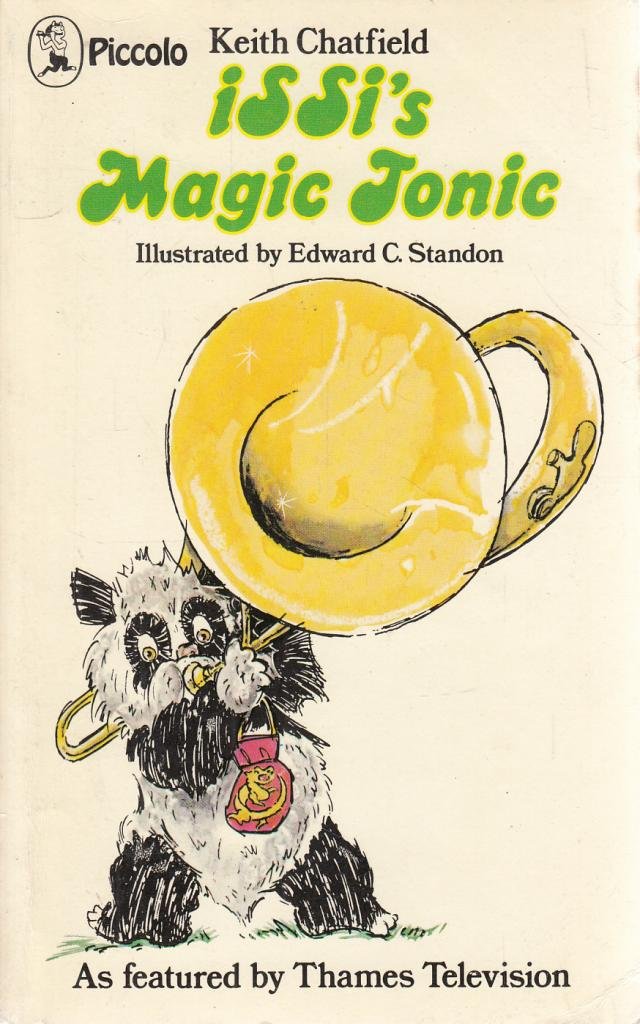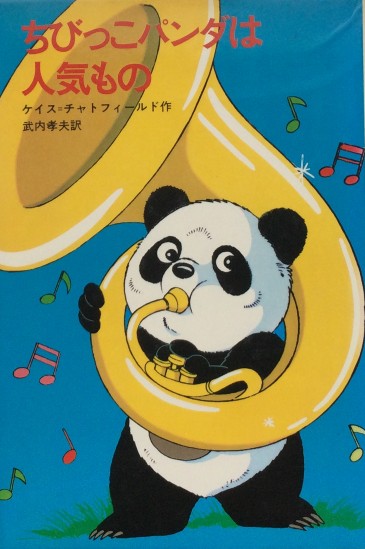 As he sits chewing his licorice shoelace, Issi plans all kinds of time-saving devices for other people, like getting a Roman soldier to help Mr Martin build a garden wall. Or else he uses his magic cards to provide amusement for himself – a room full of musical instruments, and even a knight on horseback to teach him to play chess. 
But when it looks as though Issi's magic cards are going to run out, more serious action is needed. Sally and Andrew combine with Issi to think up a solution to this potentially devastating problem and try to make Issi his cheerful self once again.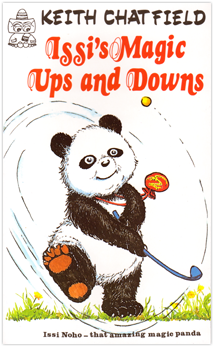 Issi's Magic Ups and Downs
Issi gets even more ambitious just when his exciting magic becomes much more difficult to perform. He now has to fill in two numbers to complete each magic square and we all know the problems he had with only one!
Adventures into outer space, a touch of his own brand of magic in the Christmas pantomime and diving for hidden treasures under the sea! Just three of Issi's more challenging projects. No wonder the Chinese dragon, guardian of Issi's magic powers, decides to pay him a visit to see how wisely he's using his special gift.
I used to be a television star!
I appeared on Thames Television, first between 1974 and 1975 but then repeated through into the 80s.
| | |
| --- | --- |
| ISSI NOHO | A GREAT WIND FOR FLYING AND DRYING |
| A MOST BEDRAGGLED AND SOGGY PANDA | WATER, WATER, EVERYWHERE |
| A VERY MAGIC PANDA | A PANDA IN THE POST |
| ALMOST A VERY NASTY ACCIDENT | THE RISE AND FALL OF THE TRIPLI-TRICYCLE |
| THE MISSING HOUSE | THUDS, SURPRISES, KNITTING AND DREAMS |
| A NOBLE ROOF | SAILING BOATS AND BEDSTEADS |
| THE GREENHOUSE ISN'T TALL ENOUGH | A PROBLEM OF FRESH EGGS FOR BREAKFAST |
| PURGES AND PAINT | A SHORT BUT MOST EVENTFUL GAME OF CRICKET |
| THE CUCKOO IN THE NEST | THE SYCAMORE TREE GETS A HAIR NET |
| FALLING LEAVES AND A RISING STACKPIPE | THE MAGIC CONFERENCE THAT NEVER WAS |
Sadly we can't find any footage of Issi on television remaining (it was a very long time ago). So you will just have to imagine how much fun it was. Thanks to Little Gems for the images and programme listing